Parking Brake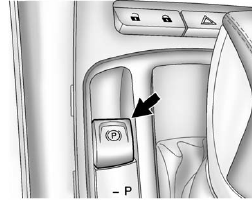 Parking Brake
The vehicle has an Electric Parking Brake (EPB). The switch for the EPB is in the center console. The EPB can always be activated, even if the ignition is off. To prevent draining the battery, avoid repeated cycles of the EPB system when the engine is not running.
The system has a parking brake status light and a parking brake warning light. See Electric Parking Brake Light. There are also three Driver Information Center (DIC) messages. See Brake System Messages for more information. In case of insufficient electrical power, the EPB cannot be applied or released.
Before leaving the vehicle, check the parking brake status light to ensure that the parking brake is applied.
See also:
Front Fog Lamps
For vehicles with front fog lamps, the button is located on the outboard side of the instrument panel. The ignition must be on to turn on the fog lamps. (Front Fog Lamps): Press to turn the f ...
Brake System Warning Light
The vehicle brake system consists of two hydraulic circuits. If one circuit is not working, the remaining circuit can still work to stop the vehicle. For normal braking performance, both cir ...
Canadian Owners Propriétaires Canadiens
A French language copy of this manual can be obtained from your dealer/retailer or from: On peut obtenir un exemplaire de ce guide en français auprès du concessionnaire ou à ...