Without Selective Ride Control
1. Move the shift lever to the left from D (Drive).
The transmission will enter Manual Mode. The DIC gear indicator will change to an M followed by a number representing the gear the vehicle is currently in.
2. In Manual Mode, press the shift lever forward to upshift or rearward to downshift.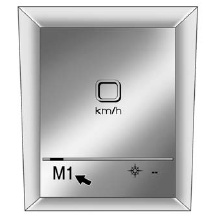 Uplevel Display Shown, Base Model Similar
The display on the instrument panel cluster will show which gear the vehicle is in. The number indicates the requested gear range when moving the shift lever forward or rearward.
The transmission will only allow you to shift into gears appropriate for the vehicle speed and engine revolutions per minute (rpm). The transmission will not automatically shift to the next lower gear if the engine rpm is too high, nor to the next higher gear when the maximum engine rpm is reached.
While in the DSC mode, the transmission will automatically downshift when the vehicle comes to a stop. This will allow for more power during take-off.
When accelerating the vehicle from a stop in snowy and icy conditions, you may want to shift into second gear. A higher gear allows you to gain more traction on slippery surfaces.
See also:
Convenience Net
For vehicles with a convenience net, it is located in the trunk and used to store small loads. The net should not be used to store heavy loads. Attach the loops on each side of the net to the hooks ...
Recreational Vehicle Towing
Recreational vehicle towing means towing the vehicle behind another vehicle – such as behind a motorhome. The two most common types of recreational vehicle towing are known as dinghy towing and ...
Airbag System
The vehicle has the following airbags: A frontal airbag for the driver. A frontal airbag for the right front passenger. A knee airbag for the driver. A knee airbag for the right front passenge ...