Without Selective Ride Control
1. Move the shift lever to the left from D (Drive).
The transmission will enter Manual Mode. The DIC gear indicator will change to an M followed by a number representing the gear the vehicle is currently in.
2. In Manual Mode, press the shift lever forward to upshift or rearward to downshift.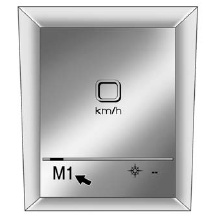 Uplevel Display Shown, Base Model Similar
The display on the instrument panel cluster will show which gear the vehicle is in. The number indicates the requested gear range when moving the shift lever forward or rearward.
The transmission will only allow you to shift into gears appropriate for the vehicle speed and engine revolutions per minute (rpm). The transmission will not automatically shift to the next lower gear if the engine rpm is too high, nor to the next higher gear when the maximum engine rpm is reached.
While in the DSC mode, the transmission will automatically downshift when the vehicle comes to a stop. This will allow for more power during take-off.
When accelerating the vehicle from a stop in snowy and icy conditions, you may want to shift into second gear. A higher gear allows you to gain more traction on slippery surfaces.
See also:
Selecting the Right Engine Oil
Selecting the right engine oil depends on both the proper oil specification and viscosity grade. See Recommended Fluids and Lubricants . Specification Use and ask for licensed engine oils with the ...
Auto Defog
This will allow you to turn the auto defog on or off. Only vehicles with the dual zone climate control will have this option. Press SELECT when Auto Defog is highlighted to open the menu. Tur ...
OIL PRESSURE LOW — STOP ENGINE
This message displays if low oil pressure levels occur. Stop the vehicle as soon as safely possible and do not operate it until the cause of the low oil pressure has been corrected. Check th ...