Overview (Radio with CD)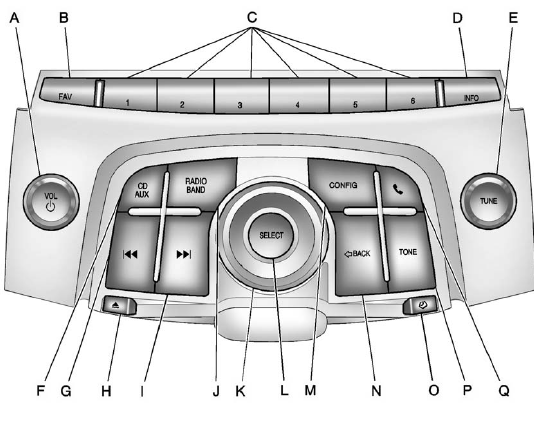 A. VOL/


• Turns the system on or off and adjusts the volume.
B. FAV
• Opens the favorites list.
C. Buttons 1 to 6
• Saves and selects favorite stations.
D. INFO
• Radio: Shows available information about the current station.
• CD: Shows available information about the current track.
E. TUNE
• Radio: Manually selects radio stations.
• CD: Selects tracks.
F. CD/AUX
• Selects the CD player or an external audio source.
G.


• Radio: Seeks the previous station.
• CD: Select the previous track or rewinds within a track.
H.


• Removes a disc from the CD slot.
I.


• Radio: Seeks the next station.
• CD: Select the next track or fast forwards within a track.
J. RADIO/BAND
• Changes the band while listening to the radio.
• Selects the radio when listening to a different audio source.
K. Menu Knob
• Opens menus, highlights menu items, or sets numeric values while in a menu.
L. SELECT
• Selects menu items.
M. CONFIG
• Opens the Settings menu.
N.

BACK
• Menu: Moves one level back.
• Character Input: Deletes the last character.
O.


• Opens the Clock menu.
P. TONE
• Opens the Tone menu.
Q.


• Opens the Phone main menu.
• Mutes the audio system.
See also:
Chime Level Adjustment
The radio is used to adjust the vehicle's chime level. To change the volume level of the chime, press and hold pushbutton 6 with the ignition on and the radio power off. The volume level will ch ...
Brake Fluid
The brake master cylinder and, on manual transmission vehicles, the clutch hydraulic system use the same reservoir. See Engine Compartment Overview for the location of the reservoir. The reser ...
Turn and Lane-Change Signals
The turn signal has two upward (for right) and two downward (for left) positions. These positions let you signal a turn or a lane change. To signal a turn, move the lever all the way up or down. ...