DIC Buttons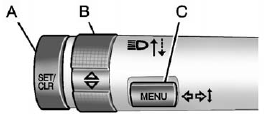 A. SET/CLR: Press to set or clear the menu item when it is displayed.
B.

(Thumbwheel): Use to scroll through the items in each menu. A small marker will move across the bottom of the page as you scroll through the items.
This shows where each page is in the menu.
C. MENU: Press to get to the Trip/Fuel Menu and the Vehicle Information Menu.
See also:
Starting the Vehicle with a Low Transmitter Battery
If the transmitter battery is weak, the DIC may display NO REMOTE DETECTED when you try to start the vehicle. The REPLACE BATTERY IN REMOTE KEY message may also be displayed at this time. To star ...
Managing the Vehicle Damage Repair Process
In the event that the vehicle requires damage repairs, GM recommends that you take an active role in its repair. If you have a pre-determined repair facility of choice, take the vehicle there, or ...
Steering Tips
It is important to take curves at a reasonable speed. Traction in a curve depends on the condition of the tires and the road surface, the angle at which the curve is banked, and vehicle speed. Wh ...