Brake System Warning Light
The vehicle brake system consists of two hydraulic circuits. If one circuit is not working, the remaining circuit can still work to stop the vehicle. For normal braking performance, both circuits need to be working.
If the warning light comes on, there is a brake problem. Have your brake system inspected right away.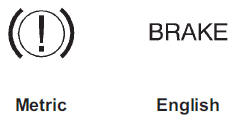 If the vehicle has antilock brakes, this light should come on when the vehicle is placed in START. If it does not, have the vehicle serviced by your dealer.
If the light comes on while driving, pull off the road and stop carefully.
The pedal may be harder to push or it can go closer to the floor. It may take longer to stop. Try turning off and restarting the vehicle one or two times. If the light is still on, have the vehicle towed for service. See Antilock Brake System (ABS) Warning Light and Towing the Vehicle.
WARNING!
The brake system might not be working properly if the brake system warning light is on.
Driving with the brake system warning light on can lead to a crash. If the light is still on after the vehicle has been pulled off the road and carefully stopped, have the vehicle towed for service.
See also:
Using the Tire Sealant and Compressor Kit without Sealant to Inflate a Tire (Not Punctured)
To use the air compressor to inflate a tire with air only and not sealant: If a tire goes flat, avoid further tire and wheel damage by driving slowly to a level place. Turn on the hazard wa ...
Auto Defog
This will allow you to turn the auto defog on or off. Only vehicles with the dual zone climate control will have this option. Press SELECT when Auto Defog is highlighted to open the menu. Tur ...
Removing the Spare Tire and Tools
To access the spare tire and tools: 1. Open the trunk. 2. Remove the spare tire cover. 3. Turn the retainer nut counterclockwise and remove the spare tire. Place the spare tire next to the tire ...