Safety Belt Use During Pregnancy
Safety belts work for everyone, including pregnant women. Like all occupants, they are more likely to be seriously injured if they do not wear safety belts.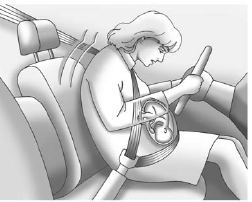 A pregnant woman should wear a lap-shoulder belt, and the lap portion should be worn as low as possible, below the rounding, throughout the pregnancy.
The best way to protect the fetus is to protect the mother. When a safety belt is worn properly, it is more likely that the fetus will not be hurt in a crash. For pregnant women, as for anyone, the key to making safety belts effective is wearing them properly.
See also:
Maintenance Records
After the scheduled services are performed, record the date, odometer reading, who performed the service, and the type of services performed in the boxes provided. Retain all maintenance receipts. ...
Engine Oil Additives/Engine Oil Flushes
Do not add anything to the oil. The recommended oils with the dexos specification and displaying the dexos certification mark are all that is needed for good performance and engine protection. Engine ...
Passing
Passing another vehicle on a two-lane road can be dangerous. To reduce the risk of danger while passing: • Look down the road, to the sides, and to crossroads for situations that might affect a ...