Shoulder Belt Height Adjuster
The vehicle has a shoulder belt height adjuster for the driver and right front passenger seating positions.
Adjust the height so the shoulder portion of the belt is on the shoulder and not falling off of it. The belt should be close to, but not contacting, the neck. Improper shoulder belt height adjustment could reduce the effectiveness of the safety belt in a crash. See How to Wear Safety Belts Properly.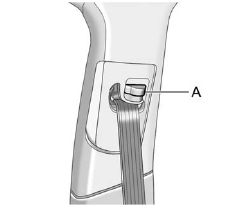 Press the release button (A) and move the height adjuster to the desired position. The adjuster can be moved up by pushing the slide/trim up. After the adjuster is set to the desired position, try to move it down without pushing the release button to make sure it has locked into position.
See also:
Roadside Assistance Program
U.S.: 1-800-252-1112 TTY Users (U.S.): 1-888-889-2438 Canada: 1-800-268-6800 Mexico: 01-800-466-0818 As the owner of a new Buick, you are automatically enrolled in the Roadside Assistance prog ...
Rear Seats
Either side of the rear seatback can be folded. Notice: Folding a rear seat with the safety belts still fastened may cause damage to the seat or the safety belts. Always unbuckle the safety belts a ...
Defensive Driving
Defensive driving means "always expect the unexpected." The first step in driving defensively is to wear the safety belt. See Safety Belts. • Assume that other road users (pedestrians, ...