Manual Reclining Seatbacks
WARNING!
You can lose control of the vehicle if you try to adjust a manual driver seat while the vehicle is moving. The sudden movement could startle and confuse you, or make you push a pedal when you do not want to.
Adjust the driver seat only when the vehicle is not moving.
WARNING!
If either seatback is not locked, it could move forward in a sudden stop or crash. That could cause injury to the person sitting there.
Always push and pull on the seatbacks to be sure they are locked.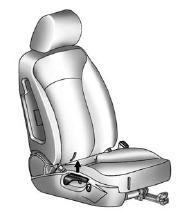 To recline the seatback:
1. Lift the recline lever.
2. Move the seatback to the desired position, and then release the lever to lock the seatback in place.
3. Push and pull on the seatback to make sure it is locked.
To return the seatback to the upright position:
1. Lift the lever fully without applying pressure to the seatback, and the seatback will return to the upright position.
2. Push and pull on the seatback to make sure it is locked.
See also:
When the Light Flashes First and Then Is On Steady
If the light flashes for about a minute and then stays on, there may be a problem with the TPMS. If the problem is not corrected, the light will come on at every ignition cycle. See Tire Pres ...
Belts
• Belts may need replacing if they squeak or show signs of cracking or splitting. • Trained dealer technicians can inspect the belts and recommend replacement when necessary. ...
2012 Buick LaCrosse Review
When I first started reviewing cars five years ago, I can assure you, I never thought I would find myself eagerly waiting to get behind the wheel of a Buick. But that started to change when the r ...