Reclining Seatbacks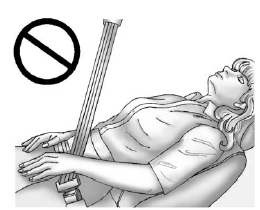 Reclining Seatbacks
WARNING!
Sitting in a reclined position when the vehicle is in motion can be dangerous. Even when buckled up, the safety belts cannot do their job when reclined like this.
The shoulder belt cannot do its job because it will not be against your body. Instead, it will be in front of you. In a crash, you could go into it, receiving neck or other injuries.
The lap belt cannot do its job either. In a crash, the belt could go up over your abdomen. The belt forces would be there, not at your pelvic bones. This could cause serious internal injuries.
For proper protection when the vehicle is in motion, have the seatback upright. Then sit well back in the seat and wear the safety belt properly.
See also:
Automatic Transmission Shift Lock Control Function Check
WARNING When you are doing this inspection, the vehicle could move suddenly. If the vehicle moves, you or others could be injured. 1. Before starting this check, be sure there is enough room aro ...
Securing an Add-On Child Restraint in the Vehicle
WARNING A child can be seriously injured or killed in a crash if the child restraint is not properly secured in the vehicle. Secure the child restraint properly in the vehicle using the vehicle sa ...
Shifting Into Park
WARNING It can be dangerous to get out of the vehicle if the shift lever is not fully in P (Park) with the parking brake firmly set. The vehicle can roll. If you have left the engine running, t ...