Seat Position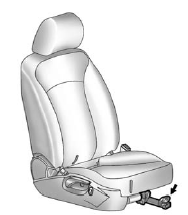 Seat Position
WARNING!
You can lose control of the vehicle if you try to adjust a manual driver seat while the vehicle is moving. The sudden movement could startle and confuse you, or make you push a pedal when you do not want to.
Adjust the driver seat only when the vehicle is not moving.
To adjust the seat position:
1. Pull the handle under the front of the seat cushion.
2. Slide the seat to the desired position and release the handle.
3. Try to move the seat back and forth to be sure it is locked in place.
See also:
Adjustable Throttle and Brake Pedal
If your vehicle has this feature, you can change the position of the throttle and brake pedals. This feature is designed for shorter drivers, since the pedals cannot move farther away from the s ...
Updating Station & Category Lists
If stations stored in the station list can no longer be received: 1. Turn the TUNE/MENU knob. 2. Select Update AM or FM Station List, if the stations stored in the station list are no longer recei ...
Regenerative Braking
Regenerative braking takes some of the energy from the moving vehicle and turns it into electrical energy. This energy is then stored in the vehicle's high voltage battery system, contributin ...