Lock Sensor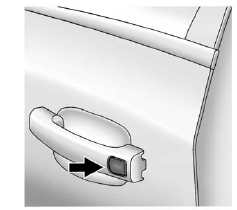 Lock Sensor
When all doors are closed and the ignition is off, the vehicle can be locked by pressing this area on the door handle. This feature will be available for several minutes after the vehicle has been turned off.
See also:
Comfort and Convenience
Select the Comfort and Convenience menu and the following will be displayed: • Chime Volume • Driver Seat Easy Exit • Park Tilt Mirrors ...
Defensive Driving
Defensive driving means "always expect the unexpected." The first step in driving defensively is to wear the safety belt. See Safety Belts. • Assume that other road users (pedestrians, ...
Highway Hypnosis
Always be alert and pay attention to your surroundings while driving. If you become tired or sleepy, find a safe place to park the vehicle and rest. Other driving tips include: Keep the vehicle ...