Driver Efficiency Gauge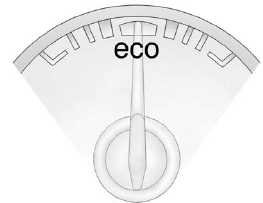 Driver Efficiency Gauge
This gauge assists the driver in operating the vehicle more efficiently and will vary based on driver input.
See Driver Efficiency Gauge for more information.
See also:
Checking Brake Fluid
You can check the brake fluid without taking off the cap. Look at the brake fluid reservoir. The fluid level should be above MIN. If it is not, have your brake system checked to see if there ...
Navigation System
If the vehicle has a navigation system, use of the system may result in the storage of destinations, addresses, telephone numbers, and other trip information. Refer to the navigation manual for in ...
Fuel E85 (85% Ethanol)
Vehicles that have a FlexFuel badge and a yellow fuel cap can use either unleaded gasoline or ethanol fuel containing up to 85% ethanol (E85). See Fuel E85 (85% Ethanol) . For all other vehicles, use ...