Cruise Control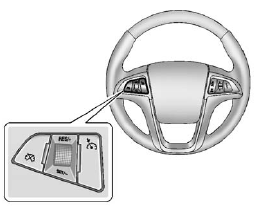 Cruise Control

: Press to turn the cruise control system on and off.

: Press to disengage cruise control without erasing the set speed from memory.
RES/+: Move the thumbwheel up to make the vehicle resume to a previously set speed or to accelerate.
SET/− : Move the thumbwheel down toward SET/- to set a speed and activate cruise control, or to make the vehicle decelerate.
See Cruise Control.
See also:
Audio System(s)
Determine which radio your vehicle has and then read the pages following to familiarize yourself with its features. Driving without distraction is a necessity for a safer driving experience. By ...
Deleting Tracks from MEM
Individual tracks and all tracks can be deleted from MEM. To delete individual tracks, press and release the DEL button while the track is playing. To delete all tracks from MEM, press and h ...
Starting the Engine
Place the transmission in the proper gear. Automatic Transmission Move the shift lever to P (Park) or N (Neutral). The engine will not start in any other position. To restart the vehicle when it is ...