Vehicle Identification Number (VIN)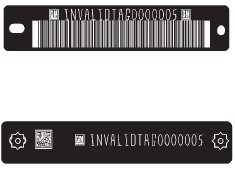 This legal identifier is in the front corner of the instrument panel, on the left side of the vehicle. It can be seen through the windshield from outside. The VIN also appears on the Vehicle Certification and Service Parts labels and certificates of title and registration.
Engine Identification
The eighth character in the VIN is the engine code. This code identifies the vehicle's engine, specifications, and replacement parts. See "Engine Specifications" under Capacities and Specifications for the vehicle's engine code.
See also:
Infotainment Control Buttons
The buttons on the faceplate are used to start primary functions while using the infotainment system. VOL/ (Volume/Power): 1. Press to turn the system on and off. 2. Turn to adjust the volum ...
Automatic Transmission Shift Lock Control Function Check
WARNING! When you are doing this inspection, the vehicle could move suddenly. If the vehicle moves, you or others could be injured. 1. Before starting this check, be sure there is enough r ...
Filling the Tank
CAUTION: Fuel vapor burns violently and a fuel fire can cause bad injuries. To help avoid injuries to you and others, read and follow all the instructions on the pump island. Turn off your engi ...