Removing the Spare Tire and Tools
To access the spare tire and tools:
1. Open the trunk.
2. Remove the spare tire cover.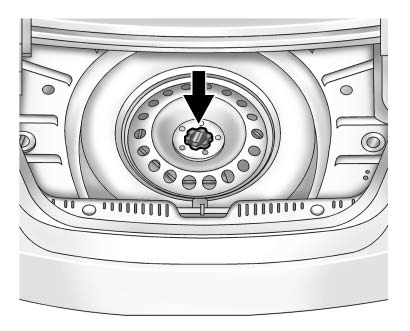 3. Turn the retainer nut counterclockwise and remove the spare tire. Place the spare tire next to the tire being changed.
4. The jack and tools are stored below the spare tire. Remove them from their container and place them near the tire being changed.
See also:
Care of the CD and DVD Player
The use of CD lens cleaners for CDs is not advised, due to the risk of contaminating the lens of the CD optics with lubricants internal to the CD mechanism. ...
Sun Visors
Sun Visors Pull the sun visor down to block glare. Detach the sun visor from the center mount to pivot to the side window, or to extend along the rod, if available. ...
Traction Control System (TCS)
The vehicle has a Traction Control System (TCS) that limits wheel spin. On a front-wheel-drive vehicle, the system operates if it senses that one or both of the front wheels are spinning or beginn ...