License Plate Lamp
To replace one of these bulbs: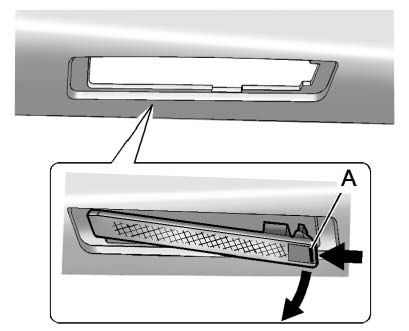 Passenger Side Shown, Driver Side Similar
1. Push the release tab (A) toward the lamp assembly.
2. Pull the lamp assembly down to remove.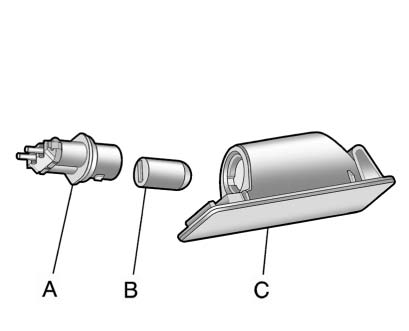 A. Bulb Socket
B. Bulb
C. Lamp Assembly
3. Turn the bulb socket (A) counterclockwise to remove it from the lamp assembly (C).
4. Pull the bulb (B) straight out of the bulb socket.
5. Push the replacement bulb straight into the bulb socket and turn the bulb socket clockwise to install it into the lamp assembly.
6. Push the lamp assembly back into position until the release tab locks into place.
See also:
Customer Assistance for Text Telephone (TTY) Users
To assist customers who are deaf, hard of hearing, or speech-impaired and who use Text Telephones (TTYs), Buick has TTY equipment available at its Customer Assistance Center. Any TTY user can communic ...
Hill Start Assist (HSA)
This vehicle has a Hill Start Assist (HSA) feature, which may be useful when the vehicle is stopped on a grade. This feature is designed to prevent the vehicle from rolling, either forward o ...
Rear Seat Entertainment (RSE) System
The vehicle may have a DVD Rear Seat Entertainment (RSE) system. The RSE system works with the vehicle's infotainment system. The DVD player is part of the front radio. The RSE system includes ...