Taillamps, Turn Signal, Stoplamps, and Back-Up Lamps
A. Taillamp/Sidemarker Lamp
B. Taillamp
C. Stop/Turn Signal Lamp
D. Back-up Lamp
To replace any one of these bulbs:
1. Open the trunk. See Trunk Release .
2. Remove the taillamp assembly access panel.
3. Remove the two nuts that secure the taillamp assembly.
4. Remove the taillamp assembly and detach the wiring harness connector.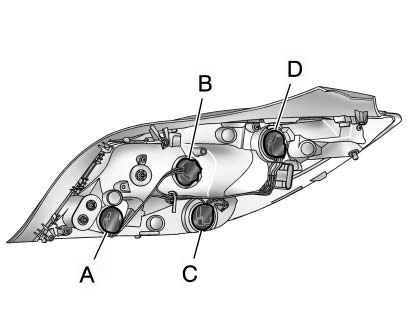 A. Back-up Lamp
B. Taillamp
C. Stop/Turn Signal Lamp
D. Taillamp/Sidemarker Lamp
5. Turn the bulb socket counterclockwise to remove it.
6. Pull the bulb from the socket.
7. Install a new bulb.
8. Turn the bulb socket clockwise to install it.
9. Reverse Steps 2 through 4 to reinstall the taillamp assembly.
See also:
Ejecting a Disc (DVD Player with Sunroof)
Press and hold the stop/eject button for more than two seconds on the DVD player faceplate to eject the disc. There is not an eject button on the remote control. If a disc is ejected from the pl ...
Ignition Positions (Key Access)
The ignition switch has four different positions. Notice: Using a tool to force the key to turn in the ignition could cause damage to the switch or break the key. Use the correct key, make sure i ...
CD Player
For vehicles equipped with the MyLink or IntelliLink infotainment system, see the separate MyLink/IntelliLink Features and Functions Guide for more information. The player can be used for CD ...