Manual Mode
Driver Shift Control (DSC)
Notice: If you drive the vehicle at a high rpm without upshifting while using Driver Shift Control (DSC), you could damage the vehicle. Always upshift when necessary while using DSC.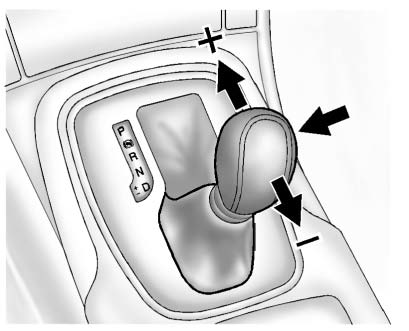 DSC allows you to shift an automatic transmission similar to a manual transmission. To use the DSC feature:
1. Move the shift lever to the left from D (Drive) into the side gate marked with (+) and (−).
2. Press the shift lever forward to upshift or rearward to downshift.
While using the DSC feature, the vehicle will have firmer, quicker shifting. You can use this for sport driving or when climbing or descending hills, to stay in gear longer, or to downshift for more power or engine braking.
The transmission will only allow you to shift into gears appropriate for the vehicle speed and engine revolutions per minute (rpm). The transmission will not automatically shift to the next lower gear if the engine rpm is too high, nor to the next higher gear when the maximum engine rpm is reached.
While in the DSC mode, the transmission will automatically downshift when the vehicle comes to a stop. This will allow for more power during take-off.
When accelerating the vehicle from a stop in snowy and icy conditions, you may want to shift into second gear. A higher gear allows the vehicle to gain more traction on slippery surfaces.
See also:
Starting the Vehicle Messages
JUMP START ACTIVE WAIT TO START This message displays while performing an on-board jump start of the vehicle. See "Jump Starting (On-board with eAssist Only)" for more information. JUM ...
Programming Universal Home Remote — Rolling Code
For questions or help programming the Universal Home Remote System, call 1-866-572-2728 or go to learcar2u.com. Most garage door openers sold after 1996 are Rolling Code units. Programming a g ...
Ejecting a Disc (DVD Player with Sunroof)
Press and hold the stop/eject button for more than two seconds on the DVD player faceplate to eject the disc. There is not an eject button on the remote control. If a disc is ejected from the pl ...