Engine Heater
The engine coolant heater, if available, can help in cold weather conditions at or below −18°C (0°F) for easier starting and better fuel economy during engine warm-up.
Plug in the coolant heater at least four hours before starting the vehicle. An internal thermostat in the plug-end of the cord will prevent engine coolant heater operation at temperatures above −18°C (0°F).
To Use the Engine Coolant Heater
1. Turn off the engine.
2. Open the hood and unwrap the electrical cord.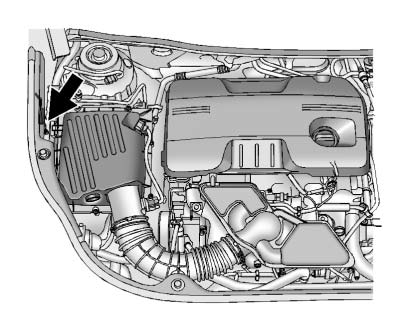 The electrical cord is located on the passenger side of the engine compartment, between the fender and the air cleaner.
3. Plug it into a normal, grounded 110-volt AC outlet.
WARNING
Plugging the cord into an ungrounded outlet could cause an electrical shock. Also, the wrong kind of extension cord could overheat and cause a fire. You could be seriously injured. Plug the cord into a properly grounded three-prong 110-volt AC outlet.
If the cord will not reach, use a heavy-duty three-prong extension cord rated for at least 15 amps.
4. Before starting the engine, be sure to unplug and store the cord as it was before to keep it away from moving engine parts.
The length of time the heater should remain plugged in depends on several factors. Ask a dealer in the area where you will be parking the vehicle for the best advice on this.
See also:
Brakes
Brakes stop the vehicle and are crucial to safe driving. • Signs of brake wear may include chirping, grinding, or squealing noises, or difficulty stopping. • Trained dealer technicians hav ...
EPB Release
To release the EPB, place the ignition in the ON/RUN position, apply and hold the brake pedal, and push down momentarily on the EPB switch. If you attempt to release the EPB without the brake peda ...
Retrieve My Number
1. Push . System responds: "OnStar ready.". 2. Say "My Number." System responds: "Your OnStar Hands-Free Calling number is." ...