Off-Road Recovery
The vehicle's right wheels can drop off the edge of a road onto the shoulder while driving.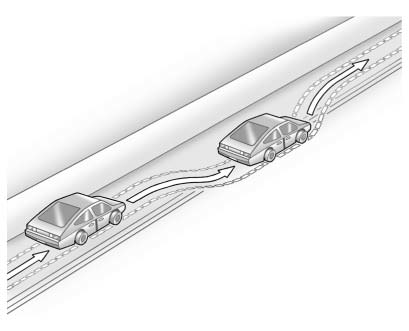 If the level of the shoulder is only slightly below the pavement, recovery should be fairly easy.
Ease off the accelerator and then, if there is nothing in the way, steer so that the vehicle straddles the edge of the pavement. Turn the steering wheel 8 to 13 cm (3 to 5 in), about one-eighth turn, until the right front tire contacts the pavement edge. Then turn the steering wheel to go straight down the roadway.
See also:
Manual Operation
(Power): Press to turn the fan on or off. (Fan Control): Press to increase or decrease the fan speed. The fan speed setting appears on the main display. Pressing either button cancels auto ...
Exterior
While the Regal's styling is definitely understated, the sedan has clean lines and a nice stance. The rear-quarter view is one of its best angles, and the car has one of the most stylish trunklids ...
Recommended Fluids and Lubricants
Usage Fluid/Lubrican Engine Oil The engine requires engine oil approved to the dexos specification. Oils meeting this specification can be identified with the dexos cer ...