Hood Release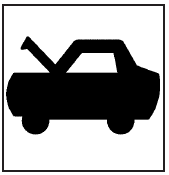 1. To open the hood, first pull the handle with this symbol on it. It is located inside the vehicle under the instrument panel on the driver's side.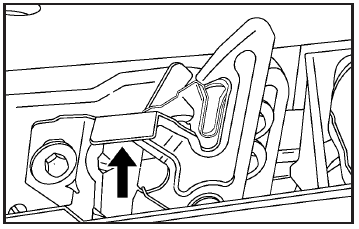 2. Then go to the front of the vehicle and release the secondary hood release.
3. Lift the hood, release the prop rod from its retainer and put the prop rod into the slot in the hood.
Before closing the hood, be sure all the filler caps are on properly. Then lift the hood to relieve pressure on the prop rod. Remove the prop rod from its slot in the hood and return the prop to its retainer. Lower the hood 6 to 8 inches (15 to 20 cm) above the vehicle and release it to latch fully. Check to make sure the hood is closed and repeat the process if necessary.
See also:
Video Screens
The video screens are located in the back of the driver and front passenger seats. To use the video screen: 1. Push the release button located on the seatback console. 2. Move the screen to ...
Entering the Feature Settings Menu
1. Turn the ignition on and place the vehicle in P (Park). To avoid excessive drain on the battery, it is recommended that the headlamps are turned off. 2. Press the customization button to enter ...
Initial Drive Information
This section provides a brief overview about some of the important features that may or may not be on your specific vehicle. For more detailed information, refer to each of the features which can b ...