Service All-Wheel Drive Light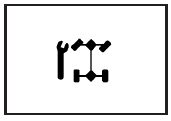 This light should come on briefly when you turn on the ignition, as a check to show you it is working.
The service all-wheel drive light comes on to indicate that there may be a problem with the drive system and service is required. Malfunctions can be indicated by the system before any problem is apparent, which may prevent serious damage to the vehicle. This system is also designed to assist your GM dealer in correctly diagnosing a malfunction.
See also:
Engine Compartment Overview
2.0 L L4 Engine A. Engine Air Cleaner/Filter . B. Engine Cover. C. Engine Oil Dipstick. See Engine Oil . D. Engine Oil Fill Cap. See Engine Oil . E. Transmission Fluid Cap and Dipstick. See Auto ...
DIC Vehicle Customization
Your vehicle may have customization capabilities that allow you to program some features to one setting based on your preference. All of the customizable options listed may not be available on you ...
Checking Coolant
The engine coolant recovery tank is in the engine compartment on the passenger's side of the vehicle. The cap has this symbol on it. The vehicle must be on a level surface. When your engine ...