Reduced Engine Power Light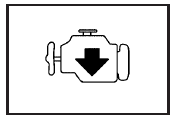 This light comes on when a noticeable reduction in the vehicle's performance occurs.
The vehicle can be driven at a reduced speed when the reduced engine power light is on, but acceleration and speed may be reduced.
The performance may be reduced until the next time you drive your vehicle. If this light stays on, see your dealer as soon as possible for diagnosis and repair.
This light may also come on if there is a problem with the Electronic Throttle Control (ETC) system. If this happens, take the vehicle in for service as soon as possible.
See also:
Courtesy Rental Vehicle
Your dealer may arrange to provide you with a courtesy rental vehicle or reimburse you for a rental vehicle that you obtain if the vehicle is kept for an overnight warranty repair. Rental rei ...
Engine Oil
To ensure proper engine performance and long life, careful attention must be paid to engine oil. Following these simple, but important steps will help protect your investment: Always use engin ...
Starting Procedure (Key Access)
1. With your foot off the accelerator pedal, turn the ignition key to START. When the engine starts, let go of the ignition. The idle speed will go down as your engine gets warm. Do not rac ...