Turn and Lane-Change Signals
The turn signal has two upward (for right) and two downward (for left) positions. These positions let you signal a turn or a lane change.
To signal a turn, move the lever all the way up or down. When the turn is finished, the lever returns automatically.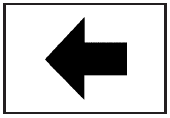 An arrow on the instrument panel cluster flashes in the direction of the turn or lane change.
To signal a lane change, raise or lower the lever until the arrow starts to flash. Hold it there until you complete your lane change. The lever returns by itself when released. The bottom of the outside rearview mirrors might also have lane change indicators.
As you signal a turn or a lane change, if the arrows flash more quickly than normal, a signal bulb could be burned out and other drivers will not see your turn signal.
If a bulb is burned out, replace it to help avoid an accident. If the arrows do not go on at all when you signal a turn, check the fuse.
If you have a trailer towing option with added wiring for the trailer lamps, a turn signal flasher is used. With this flasher installed, the signal indicator flashes even if a turn signal bulb is burned out. Check the front and rear turn signal lamps regularly to make sure they are working.
Turn Signal On Chime
If your turn signal is left on for more than 3/4 of a mile (1.2 km), a chime sounds at each flash of the turn signal. To turn off the chime, move the turn signal lever to the off position.
See also:
Blizzard Conditions
Being stuck in snow can be in a serious situation. Stay with the vehicle unless there is help nearby. If possible, use the Roadside Assistance Program. To get help and keep everyone in the vehic ...
Passenger Sensing System
The vehicle has a passenger sensing system for the front outboard passenger position. The passenger airbag status indicator will light on the instrument panel when the vehicle is started. The w ...
Before Leaving on a Long Trip
To prepare your vehicle for a long trip, consider having it serviced by your dealer/retailer before departing. Things to check on your own include: • Windshield Washer Fluid: Reservoir full? Win ...