Compass Variance
Compass variance is the difference between earth's magnetic north and true geographic north. The mirror is set to zone eight upon leaving the factory.
It will be necessary to adjust the compass to compensate for compass variance if you live outside zone eight. Under certain circumstances, such as during a long distance cross-country trip, it will be necessary to adjust for compass variance.
If not adjusted to account for compass variance, your compass could give false readings.
To adjust for compass variance, do the following:
1. Find your current location and variance zone number on the following zone map.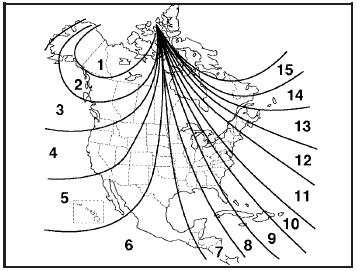 2. Press and hold the on/off button for six seconds. Release the button when (FOR ZONE) is displayed. The number shown is the current zone number.
3. Scroll through the zone numbers that appear in the window on the mirror by pressing the on/off button. Once you find your zone number, release the button. After about four seconds, the mirror will return to the compass display, and the new zone number will be set.
See also:
Bulb Replacement
For the proper type of replacement bulbs, see Replacement Bulbs . For any bulb-changing procedure not listed in this section, contact your dealer. ...
Lock Sensor
Lock Sensor When all doors are closed and the ignition is off, the vehicle can be locked by pressing this area on the door handle. This feature will be available for several minutes after ...
Power Door Locks
The power door lock switches are located on the driver's and front passenger's door armrests. Press the lock symbol to lock all of the doors. To unlock the doors, press the other side of ...