Parking Brake
To set the parking brake, hold the regular brake pedal down with your foot and pull up on the parking brake lever located between the seats.
If the ignition is on, the brake system warning light on the instrument panel cluster will come on.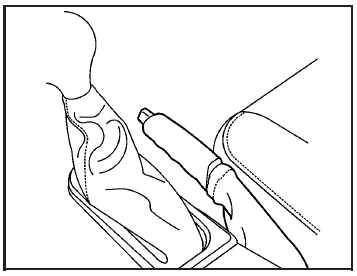 To release the parking brake, hold the regular brake pedal down. Pull the parking brake lever up until you can press in the button at the end of the lever. Hold the button in as you move the parking brake lever all the way down.
Notice: Driving with the parking brake on can overheat the brake system and cause premature wear or damage to brake system parts. Verify that the parking brake is fully released and the brake warning light is off before driving.
If you are towing a trailer and you must park on a hill.
See also:
Vehicle Data Recording and Privacy
Your GM vehicle has a number of sophisticated computers that record information about the vehicle's performance and how it is driven. For example, your vehicle uses computer modules to monitor ...
Under the Hood
A 291-hp, 4.2-liter inline-six-cylinder is standard, and a 300-hp, 5.3-liter V-8 is optional. A four-speed automatic is the sole transmission. ...
Vehicle Storage
WARNING Batteries have acid that can burn you and gas that can explode. You can be badly hurt if you are not careful. See Jump Starting for tips on working around a battery without gettin ...