Safety Belt Use During Pregnancy
Safety belts work for everyone, including pregnant women. Like all occupants, they are more likely to be seriously injured if they do not wear safety belts.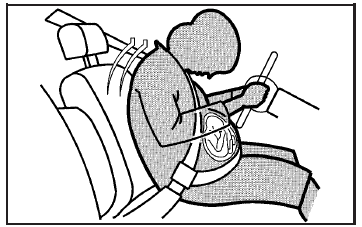 A pregnant woman should wear a lap-shoulder belt, and the lap portion should be worn as low as possible, below the rounding, throughout the pregnancy.
The best way to protect the fetus is to protect the mother. When a safety belt is worn properly, it is more likely that the fetus will not be hurt in a crash. For pregnant women, as for anyone, the key to making safety belts effective is wearing them properly.
See also:
Brake Fluid
The brake master cylinder and, on manual transmission vehicles, the clutch hydraulic system use the same reservoir. See Engine Compartment Overview for the location of the reservoir. The r ...
Trailer Towing
Before pulling a trailer, there are three important considerations that have to do with weight: The weight of the trailer. The weight of the trailer tongue. The total weight on your vehicle& ...
Roadside Assistance Program
For U.S.-purchased vehicles, call 1-800-252-1112; (Text Telephone (TTY): 1-888-889-2438). For Canadian-purchased vehicles, call 1-800-268-6800. Service is available 24 hours a day, 365 days a year. ...