Brake System Warning Light
The vehicle brake system consists of two hydraulic circuits. If one circuit is not working, the remaining circuit can still work to stop the vehicle. For normal braking performance, both circuits need to be working.
If the warning light comes on, there is a brake problem. Have the brake system inspected right away.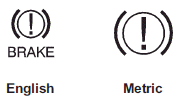 The Brake System Warning Light should come on briefly as the engine is started. If it does not come on, have the vehicle serviced by your dealer.
WARNING
The brake system might not be working properly if the brake system warning light is on.
Driving with the brake system warning light on can lead to a crash. If the light is still on after the vehicle has been pulled off the road and carefully stopped, have the vehicle towed for service.
If the light comes on while driving, a chime sounds. Pull off the road and stop. The pedal might be harder to push or go closer to the floor.
It might also take longer to stop.
If the light is still on, have the vehicle towed for service. See Towing the Vehicle .
See also:
Replacing Restraint System Parts After a Crash
CAUTION: A crash can damage the restraint systems in your vehicle. A damaged restraint system may not properly protect the person using it, resulting in serious injury or even death in a crash. ...
Reporting Safety Defects to the Canadian Government
If you live in Canada, and you believe that your vehicle has a safety defect, notify Transport Canada immediately, in addition to notifying General Motors of Canada Limited. Call them at 1-800-3 ...
Fuel Range
This display shows the approximate distance the vehicle can be driven without refueling. The fuel range estimate is based on an average of the vehicle's fuel economy over recent driving hist ...