Brake System Warning Light
The vehicle brake system consists of two hydraulic circuits. If one circuit is not working, the remaining circuit can still work to stop the vehicle. For normal braking performance, both circuits need to be working.
If the warning light comes on, there is a brake problem. Have the brake system inspected right away.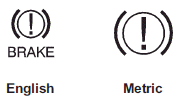 The Brake System Warning Light should come on briefly as the engine is started. If it does not come on, have the vehicle serviced by your dealer.
WARNING
The brake system might not be working properly if the brake system warning light is on.
Driving with the brake system warning light on can lead to a crash. If the light is still on after the vehicle has been pulled off the road and carefully stopped, have the vehicle towed for service.
If the light comes on while driving, a chime sounds. Pull off the road and stop. The pedal might be harder to push or go closer to the floor.
It might also take longer to stop.
If the light is still on, have the vehicle towed for service. See Towing the Vehicle .
See also:
Compact Dimensions
The Verano measures a smidge larger than the Cruze, with which it shares the same wheelbase. The Buick's footprint falls between the shrink-wrapped Lexus IS 250 and larger Acura TSX, but its styli ...
Heated and Ventilated Front Seats
WARNING! If you cannot feel temperature change or pain to the skin, the seat heater may cause burns even at low temperatures. To reduce the risk of burns, people with such a condition shoul ...
Leaving After Parking on a Hill
1. Apply and hold the brake pedal while you: 1.1. Start the engine. 1.2. Shift into a gear. 1.3. Release the parking brake. 2. Let up on the brake pedal. 3. Drive slowly until the trailer is clea ...