Power Reclining Seatbacks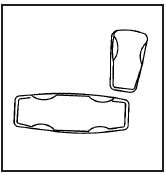 The front seats have power reclining seatbacks. Use the vertical power seat control located on the outboard side of the seat to operate them.
• To recline the seatback, press the control toward the rear of the vehicle.
• To raise the seatback, press the control toward the front of the vehicle.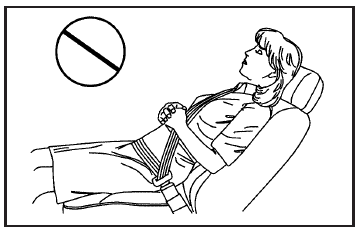 CAUTION:
Sitting in a reclined position when your vehicle is in motion can be dangerous.
Even if you buckle up, your safety belts cannot do their job when you are reclined like this.
The shoulder belt cannot do its job. In a crash, you could go into it, receiving neck or other injuries.
The lap belt cannot do its job either. In a crash the belt could go up over your abdomen. The belt forces would be there, not at your pelvic bones. This could cause serious internal injuries.
For proper protection when the vehicle is in motion, have the seatback upright.
Then sit well back in the seat and wear your safety belt properly.
Do not have a seatback reclined if your vehicle is moving.
See also:
At Least Once a Month
Tire Inflation Check Visually inspect your vehicle's tires and make sure they are inflated to the correct pressures. Do not forget to check the spare tire. Tire Wear Inspection Tire rotation ...
Cruise Control
With cruise control, the vehicle can maintain a speed of about 40 km/h (25 mph) or more without keeping your foot on the accelerator. Cruise control does not work at speeds below 40 km/h (25 ...
Interior Lighting
Dome Lamps The interior lamps control located in the overhead console controls both the front and rear interior lamps. : Turns the lamps off. : Turns the lamps on when any door is opened. : Keeps ...