Tire Designations
Tire Size
The following is an example of a typical passenger vehicle tire size.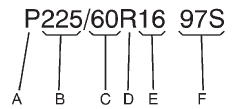 (A) Passenger (P-Metric) Tire: The United States version of a metric tire sizing system. The letter P as the first character in the tire size means a passenger vehicle tire engineered to standards set by the U.S. Tire and Rim Association.
(B) Tire Width: The three-digit number indicates the tire section width in millimeters from sidewall to sidewall.
(C) Aspect Ratio: A two-digit number that indicates the tire height-to-width measurements. For example, if the tire size aspect ratio is 60, as shown in item C of the illustration, it would mean that the tire's sidewall is 60 percent as high as it is wide.
(D) Construction Code: A letter code is used to indicate the type of ply construction in the tire. The letter R means radial ply construction; the letter D means diagonal or bias ply construction; and the letter B means belted-bias ply construction.
(E) Rim Diameter: Diameter of the wheel in inches.
(F) Service Description: These characters represent the load index and speed rating of the tire. The load index represents the load carrying capacity a tire is certified to carry. The speed rating is the maximum speed a tire is certified to carry a load.
See also:
Power Door Locks
Power Door Locks (Unlock): Press to unlock all doors. (Lock): Press to lock all doors. See "Power Door Locks" in Vehicle Personalization. ...
Engine Oil Messages
CHANGE ENGINE OIL SOON This message displays when the engine oil needs to be changed. When you change the engine oil, be sure to reset the Oil Life System. See Engine Oil Life System and Dr ...
Remote Keyless Entry (RKE) System
The Remote Keyless Entry (RKE) transmitter will work up to 20 m (65 ft) away from the vehicle. On vehicles with remote start the distance will be greater. Press the button to extend the key ...