Wiper Blade Replacement
Windshield wiper blades should be inspected for wear and cracking. See Maintenance Schedule for more information.
Replacement blades come in different types and are removed in different ways. For proper type and length, see Maintenance Replacement Parts .

Notice: Allowing the wiper arm to touch the windshield when no wiper blade is installed could damage the windshield. Any damage that occurs would not be covered by your warranty. Do not allow the wiper arm to touch the windshield.
To replace the windshield wiper blade:
1. Pull the windshield wiper assembly away from the windshield.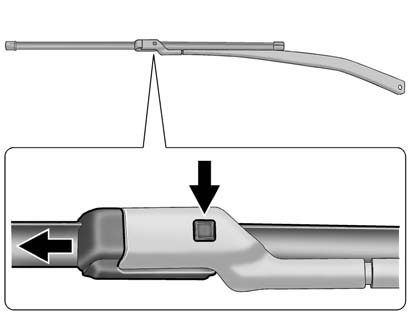 2. Press the button in the middle of the wiper arm connector, and pull the wiper blade away from the arm connector.
3. Remove the wiper blade.
4. Reverse Steps 1 through 3 for wiper blade replacement.
See also:
Hazard Warning Flashers
Hazard Warning Flashers Hazard Warning Flasher: Press this button to make the front and rear turn signal lamps flash on and off. Press again to turn the flashers off. The hazard warning fl ...
Matching Transmitter(s) toYour Vehicle
Each remote keyless entry transmitter is coded to prevent another transmitter from unlocking your vehicle. If a transmitter is lost or stolen, a replacement can be purchased through your dealer. R ...
Jump Starting
For more information about the vehicle battery, see Battery . If the battery has run down, try to use another vehicle and some jumper cables to start your vehicle. Be sure to use the following step ...