How to Inspect the Engine Air Cleaner/Filter
To inspect the air cleaner/filter, remove the filter from the vehicle and lightly shake the filter to release loose dust and dirt. If the filter remains covered with dirt, a new filter is required.
To inspect or replace the engine air cleaner/filter: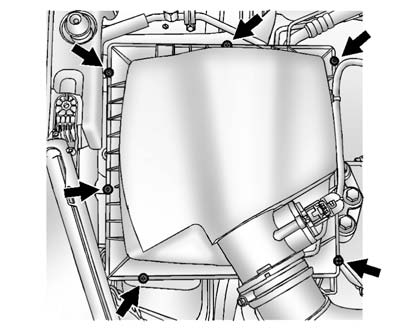 1. Remove the six screws that secure the cover on.
2. Lift off the cover.
3. Inspect or replace the engine air cleaner/filter.
4. Align the filter correctly.
5. Install the cover by lowering it over the filter and secure with the screws.

WARNING
Operating the engine with the air cleaner/filter off can cause you or others to be burned. The air cleaner not only cleans the air; it helps to stop flames if the engine backfires. Use caution when working on the engine and do not drive with the air cleaner/filter off.

Notice: If the air cleaner/filter is off, dirt can easily get into the engine, which could damage it. Always have the air cleaner/filter in place when you are driving.
See also:
Where Are the Airbags?
The driver's frontal airbag is in the middle of the steering wheel. The right front passenger's frontal airbag is in the instrument panel on the passenger's side. If your vehicle has a ...
Halogen Bulbs
WARNING! Halogen bulbs have pressurized gas inside and can burst if you drop or scratch the bulb. You or others could be injured. Be sure to read and follow the instructions on the bulb pac ...
Controls
The infotainment system is operated by using the pushbuttons, multifunction knobs, menus shown on the display, and steering wheel controls, if equipped. ...