Engine Compartment Overview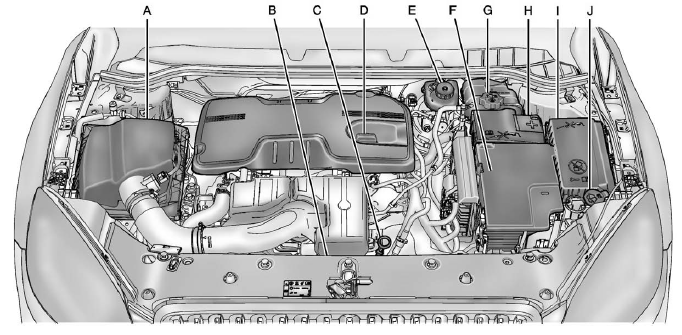 A. Engine Air Cleaner/Filter .
B. Electric Engine Cooling Fan (Out of View). See Cooling System .
C. Engine Oil Dipstick. See "Checking Engine Oil" under Engine Oil .
D. Engine Oil Fill Cap. See "When to Add Engine Oil" under Engine Oil .
E. Brake Fluid Reservoir. See "Brake Fluid" under Brakes .
F. Battery (Under Cover).
G. Engine Coolant Surge Tank and Pressure Cap. See Engine Coolant .
H. Remote Positive (+) Terminal. See Jump Starting .
I. Engine Compartment Fuse Block .
J. Windshield Washer Fluid Reservoir. See "Adding Washer Fluid" under Washer Fluid .
See also:
Fuses and Circuit Breakers
The wiring circuits in your vehicle are protected from short circuits by a combination of fuses and circuit breakers. This greatly reduces the chance of fires caused by electrical problems. Loo ...
How to Change the Video Format when inthe Auxiliary Mode
The auxiliary input video format is preset to NTSC. In some countries, the video format may be in the PAL system. To change the video format, perform the following: 1. Press the display menu b ...
Using Voice Commands During a Planned Route
Cancel Route 1. Push . System responds: "OnStar ready," then a tone. Say "Cancel route." System responds: "Would you like to cancel route directions to your destination?". 2. Sa ...