Steering Wheel Controls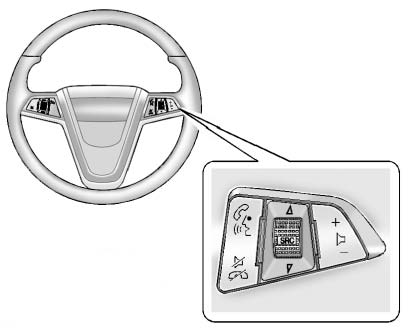 For vehicles with audio steering wheel controls, some audio controls can be adjusted at the steering wheel.

(Push to Talk): For vehicles with a Bluetooth, OnStar, or navigation system, press to interact with those systems. See Bluetooth (Overview) or Bluetooth (Infotainment Controls) or Bluetooth (Voice Recognition) , the OnStar Owner's Guide, or the separate navigation manual for more information.

(Mute/End Call): Press to silence the vehicle speakers only.
Press again to turn the sound on. For vehicles with OnStar or Bluetooth systems, press to reject an incoming call, or end a current call.

(Rotary Control): Turn to select an audio source.
Press

to select the next or previous favorite radio station, CD, or MP3 track.

(Volume): Press + to increase the volume. Press − to decrease the volume.
See also:
Infotainment
Read the following pages to become familiar with the audio system's features. WARNING Taking your eyes off the road for extended periods could cause a crash resulting in injury or death to y ...
Managing the Vehicle Damage Repair Process
In the event that your vehicle requires damage repairs, GM recommends that you take an active role in its repair. If you have a pre-determined repair facility of choice, take your vehicle there, ...
Steering Tips
It is important to take curves at a reasonable speed. Traction in a curve depends on the condition of the tires and the road surface, the angle at which the curve is banked, and vehicle speed. Wh ...