Cruise Control
The cruise control lets the vehicle maintain a speed of about 40 km/h (25 mph) or more without keeping your foot on the accelerator. Cruise control does not work at speeds below 40 km/h (25 mph).
The vehicle has a Traction Control System (TCS) or StabiliTrak system that begins to limit wheel spin while using cruise control and the cruise control will automatically disengage. See Traction Control System (TCS) or StabiliTrak® System . When road conditions allow you to safely use it again, the cruise control can be turned back on.

WARNING
Cruise control can be dangerous where you cannot drive safely at a steady speed. So, do not use the cruise control on winding roads or in heavy traffic.
Cruise control can be dangerous on slippery roads. On such roads, fast changes in tire traction can cause excessive wheel slip, and you could lose control. Do not use cruise control on slippery roads.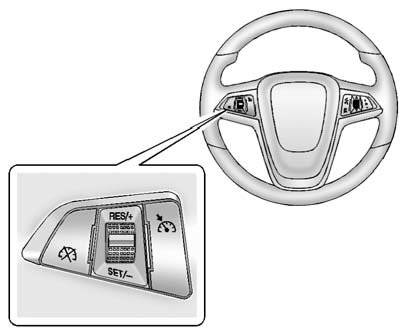 (On/Off): Press to turn the cruise control system on and off. An indicator light will turn on or off in the instrument cluster.

(Cancel): Press to disengage cruise control without erasing the set speed from memory.
RES/+ (Resume/Accel): Move the thumbwheel up to resume to a previously set speed or to accelerate.
SET/− (Set/Coast): Move the thumbwheel down to set a speed and activate cruise control or to make the vehicle decelerate.
See also:
Safety System Check
Now and then, check that the safety belt reminder light, safety belts, buckles, latch plates, retractors, and anchorages are all working properly. Look for any other loose or damaged safety b ...
How to Add Automatic Transmission Fluid
Refer to the Maintenance Schedule to determine what kind of transmission fluid to use. See Recommended Fluids and Lubricants. If the fluid level is low, add only enough of the proper fluid to b ...
Weight of the Trailer
How heavy can a trailer safely be? For a vehicle with a V6 engine, it should never weigh more than 454 kg (1,000 lbs). But even that can be too heavy. It depends on how the rig is used. For e ...