StabiliTrak® System
The vehicle has a vehicle stability enhancement system called StabiliTrak. It is an advanced computer controlled system that assists with directional control of the vehicle in difficult driving conditions.
StabiliTrak activates when the computer senses a difference between the intended path, and the direction the vehicle is actually traveling. StabiliTrak selectively applies braking pressure at any one of the vehicle's brakes to help steer the vehicle in the intended direction.
StabiliTrak is on automatically whenever the vehicle is started. To assist with directional control of the vehicle, the system should always be left on.

TCS/StabiliTrak Light
When the stability control system activates,

flashes on the instrument panel. This also occurs when traction control is activated. A noise may be heard or vibration may be felt in the brake pedal. This is normal. Continue to steer the vehicle in the intended direction. If there is a problem detected with StabiliTrak, the appropriate message will be displayed on the DIC. See Ride Control System Messages .
When this message is displayed and/or d comes on and stays on, the vehicle is safe to drive but the system is not operational. Driving should be adjusted accordingly. If

comes on and stays on, reset the system:
1. Stop the vehicle.
2. Turn the engine off and wait 15 seconds.
3. Start the engine.
If

still comes on and stays on at a speed above 20 km/h (13 mi/h), see your dealer for service.

TCS/StabiliTrak Button
This button is located below the infotainment system screen.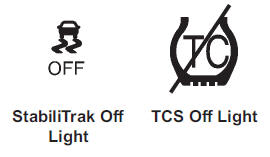 StabiliTrak can be turned off if needed by pressing and holding g until
and

come on in the instrument panel and the appropriate message displays on the DIC. When StabiliTrak is turned off, the system will not assist with directional control of the vehicle or limit wheel spin. Driving should be adjusted accordingly. Press and release
again to turn the system back on.
If cruise control is being used when StabiliTrak activates, cruise control will automatically disengage. Press the appropriate cruise control button to reengage when road conditions allow. See Cruise Control for more information.
See also:
Connections
OnStar Hands-Free Calling allows calls to be made and received from the vehicle. The vehicle can also be controlled from a cell phone through the OnStar mobile app. See www.onstar.com for co ...
Services Specific to Canadian Purchased Vehicles
• Fuel delivery: Reimbursement is approximately $5 Canadian. Diesel fuel delivery may be restricted. Propane and other fuels are not provided through this service. • Lock-Out Service: Vehicl ...
Engine Oil Life System
The engine oil life system calculates engine oil life based on vehicle use and displays the CHANGE ENGINE OIL SOON message when it is time to change the engine oil and filter. The oil life system ...