Key Lock Release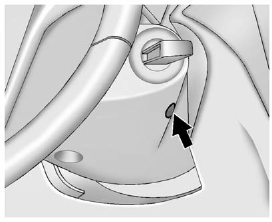 Vehicles with an automatic transmission are equipped with an electronic key lock release system. The key lock release is designed to prevent ignition key removal unless the shift lever is in P (Park).
The key lock release is always functional except in the case of an uncharged or low voltage (less than 9-volt) battery. If the vehicle has an uncharged battery or a battery with low voltage, try charging or jump starting the battery. See Jump Starting .
If charging or jump starting the battery does not work, locate the hole below the ignition lock. Insert a flat bladed tool or another key from the key chain into the opening. When the lever can be felt, actuate the lever toward the driver, and remove the key from the ignition.
See also:
Tire Pressure
Tires need the correct amount of air pressure to operate effectively. Notice: Neither tire underinflation nor overinflation is good. Underinflated tires, or tires that do not have enough ...
Customer Assistance for Text Telephone (TTY) Users
To assist customers who are deaf, hard of hearing, or speech-impaired and who use Text Telephones (TTYs), Buick has TTY equipment available at its Customer Assistance Center. Any TTY user can co ...
Power Lumbar
On vehicles with power lumbar, the control is located on the outboard side of the front seats. For vehicles with a two-way lumbar control, press the control top or bottom to increase or decreas ...