Turn and Lane-Change Signals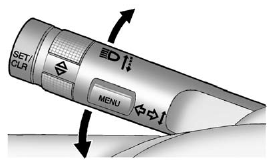 An arrow on the instrument panel cluster will flash in the direction of the turn or lane change.
Move the lever all the way up or down to signal a turn.
Raise or lower the lever until the arrow starts to flash to signal a lane change. The turn signal flashes three times.
The lever returns to its starting position when it is released.
If after signaling a turn or lane change the arrow flashes rapidly or does not come on, a signal bulb may be burned out. Have the bulbs replaced. If the bulb is not burned out, check the fuse. See Fuses and Circuit Breakers for more information.
See also:
Return to Factory Settings
Select Return to Factory Settings to return all of the vehicle personalization to the default settings. Turn the Menu knob to select Yes or No. Press SELECT to confirm and go back to the l ...
Recreational Vehicle Towing
Recreational vehicle towing means towing the vehicle behind another vehicle such as a motor home. The two most common types of recreational vehicle towing are known as dinghy towing and doll ...
Unlocked Door Anti Lock Out
When on, this feature will keep the driver door from locking when the door is open. If off is selected, the Unlocked Door Anti Lock Out menu will be available and the door will lock as progr ...