Brake System Warning Light
The vehicle brake system consists of two hydraulic circuits. If one circuit is not working, the remaining circuit can still work to stop the vehicle. For normal braking performance, both circuits need to be working.
If the warning light comes on, there is a brake problem. Have the brake system inspected right away.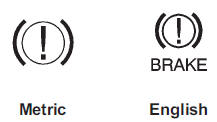 The brake indicator light should come on briefly as the engine is started. If it does not come on have the vehicle serviced by your dealer.

WARNING
The brake system might not be working properly if the brake system warning light is on. Driving with the brake system warning light on can lead to a crash. If the light is still on after the vehicle has been pulled off the road and carefully stopped, have the vehicle towed for service.
If the light comes on while driving, a chime sounds. Pull off the road and stop. The pedal might be harder to push or go closer to the floor. It might also take longer to stop. If the light is still on, have the vehicle towed for service. See Towing the Vehicle .
See also:
Bluetooth (Infotainment Controls)
For vehicles equipped with the MyLink or IntelliLink infotainment system, see the separate MyLink/ IntelliLink Features and Functions Guide for more information. For information about how to naviga ...
Quiet tuning
Buick Verano delivers the library-quiet driving experience for which Buicks have become known. Quiet-tuning systems, processes and components are built into every facet of the vehicle's architectu ...
Home Page Features
Various functions are disabled when the vehicle is moving. Press the Now Playing screen button to display the active source page. The sources available are AM, FM, XM (if equipped), CD, USB/iPod, a ...