Steering Wheel Controls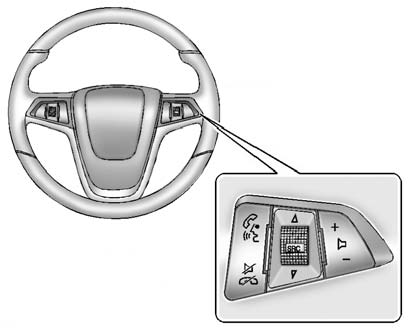 Some audio controls can be adjusted at the steering wheel.

(Push to Talk): For vehicles with a Bluetooth, OnStar, or navigation system, press to interact with those systems. See Bluetooth (Infotainment Controls) or Bluetooth (Overview) or Bluetooth (Voice Recognition) , OnStar Overview , or the separate navigation manual for more information.

(Mute/End Call): Press to silence the vehicle speakers only. Press again to turn the sound on. For vehicles with OnStar or Bluetooth systems, press to reject an incoming call, or end a current call.

(Source): Press to select an audio source.
Move the thumbwheel up or down to select the next or previous favorite radio station, CD, or MP3 track.

(Volume): Press + to increase the volume. Press − to decrease the volume.
See also:
Securing Child Restraints (Rear Seat)
When securing a child restraint in a rear seating position, study the instructions that came with the child restraint to make sure it is compatible with this vehicle. If the child restraint has the L ...
Engine Compartment Overview
When you open the hood on the 3.9L V6 engine, here is what you will see: A. Underhood Fuse Block. B. Remote Positive (+) Battery Terminal. See Jump Starting. C. Windshield Washer Fluid Reservoi ...
Wiper Blades
Wiper blades need to be cleaned and kept in good condition to provide a clear view. • Signs of wear include streaking, skipping across the windshield, and worn or split rubber. • Trained ...