Top Tether Anchor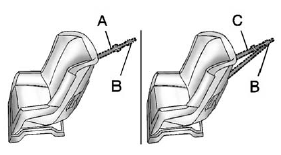 A top tether (A, C) anchors the top of the child restraint to the vehicle. A top tether anchor is built into the vehicle. The top tether attachment (B) on the child restraint connects to the top tether anchor in the vehicle in order to reduce the forward movement and rotation of the child restraint during driving or in a crash.
The child restraint may have a single tether (A) or a dual tether (C). Either will have a single attachment (B) to secure the top tether to the anchor.
Some child restraints that have a top tether are designed for use with or without the top tether being attached. Others require the top tether always to be attached. In Canada, the law requires that forward-facing child restraints have a top tether, and that the tether be attached. Be sure to read and follow the instructions for the child restraint.
See also:
Pulling a Trailer
Here are some important points: . There are many laws, including speed limit restrictions that apply to trailering. Check for legal requirements with state or provincial police. . Do not t ...
Vehicle Identification Number (VIN)
Vehicle Identification Number (VIN) This legal identifier is in the front corner of the instrument panel, on the left side of the vehicle. It can be seen through the windshield from outsi ...
Steps for Determining Correct Load Limit
1. Locate the statement "The combined weight of occupants and cargo should never exceed XXX kg or XXX lbs" on your vehicle's placard. 2. Determine the combined weight of the driver and pass ...