Sunroof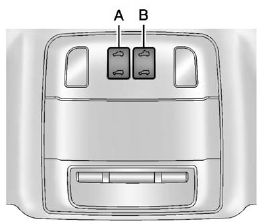 For vehicles with a sunroof, the sunroof only operates when the ignition is in ON/RUN or ACC/ ACCESSORY, or in Retained Accessory Power (RAP). See Retained Accessory Power (RAP) for more information. Open/Close: Press switch (A) to the first detent position.
Express Open/Close: Press switch (A) to the second detent position and release. To stop the movement, press the switch again.
Automatic Tilt/Close: Press the rear of switch (B) to vent the sunroof. Press the front of switch (B) to close the sunroof vent. If an object is in the path of the sunroof while it is closing, the anti-pinch feature will detect the object and stop the sunroof. The sunroof will then return to the full-open or vent position.
The sunroof cannot be opened or closed if the vehicle has an electrical failure.
Safety Function
If the sunroof has any resistance during automatic closing, it will immediately stop and reverse.
To override the safety function, press and hold the front of switch (A) or (B). The sunroof closes without the safety function. To stop the movement, release the switch.
Initializing
After a power failure, the sunroof operation may be limited. Have the system initialized by a dealer technician.
Sunshade
The sunshade is manually operated. Close or open the sunshade by sliding. When the sunroof is opened, the sunshade is always open.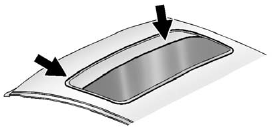 Dirt and debris may collect on the sunroof seal or in the track. This could cause an issue with sunroof operation or noise. It could also plug the water drainage system. Periodically open the sunroof and remove any obstacles or loose debris. Wipe the sunroof seal and roof sealing area using a clean cloth, mild soap, and water. Do not remove grease from the sunroof.
See also:
Ashtray(s) and Cigarette Lighter
Your vehicle may have this feature. The ashtray is removable and fits into the front cupholder. Notice: If you put papers, pins, or other flammable items in the ashtray, hot cigarettes or other sm ...
If the Off Indicator is Lit for an Adult-Size Occupant
If a person of adult-size is sitting in the right front passenger seat, but the off indicator is lit, it could be because that person is not sitting properly in the seat. If this happens, use t ...
When the Light Flashes First and Then Is On Steady
If the light flashes for about a minute and then stays on, there may be a problem with the TPMS. If the problem is not corrected, the light will come on at every ignition cycle. See Tire Pres ...