Remote Keyless Entry (RKE) System
The Remote Keyless Entry (RKE) transmitter will work up to 20 m (65 ft) away from the vehicle.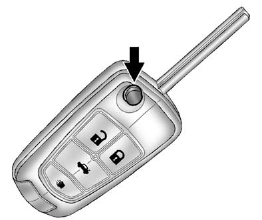 RKE without Remote Start Shown
Press the button to extend the key. The key can be used for all locks. This key is also used for the ignition, if the vehicle does not have pushbutton start.
: Press to unlock the driver door or all doors.

: Press to lock all doors. Lock and unlock feedback can be personalized.

: Press and hold to open the trunk.

: Press and release one time to locate the vehicle. Press and hold for at least two seconds to sound the panic alarm. Press again to cancel the panic alarm.
See also:
Front Fog Lamp Light
For vehicles with fog lamps, this light comes on when the fog lamps are in use. The light goes out when the fog lamps are turned off. See Fog Lamps for more information. ...
Care of the CD Player
Do not add any label to a CD, it could get caught in the CD player. If a CD is recorded on a personal computer and a description label is needed, try labeling the top of the recorded CD with a m ...
XM Categories (Radio with CD and Touchscreen)
Adding or Removing Categories 1. From the Home Page press the Config screen button or the CONFIG button on the infotainment system. 2. Select Radio Settings from the Config Menu list. 3. Se ...