Shoulder Belt Height Adjuster
The vehicle has a shoulder belt height adjuster for the driver and right front passenger seating positions.
Adjust the height so the shoulder portion of the belt is on the shoulder and not falling off of it. The belt should be close to, but not contacting, the neck. Improper shoulder belt height adjustment could reduce the effectiveness of the safety belt in a crash. See How to Wear Safety Belts Properly .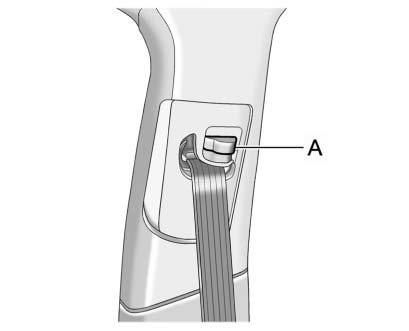 Press the release button (A) and move the height adjuster to the desired position. The adjuster can be moved up by pushing the slide/ trim up. After the adjuster is set to the desired position, try to move it down without pushing the release button to make sure it has locked into position.
See also:
Radiator Pressure Cap
Notice: If the pressure cap is not tightly installed, coolant loss and possible engine damage may occur. Be sure the cap is properly and tightly secured. ...
Content Theft-Deterrent
Your vehicle is equipped with a content theft-deterrent alarm system. Here is how to operate the system: 1. Open the door. 2. Lock the door with the power door lock switch or the remote key ...
If the Vehicle Is Stuck
Slowly and cautiously spin the wheels to free the vehicle when stuck in sand, mud, ice, or snow. If stuck too severely for the traction system to free the vehicle, turn the traction system of ...