Rear Seat Pass-Through Door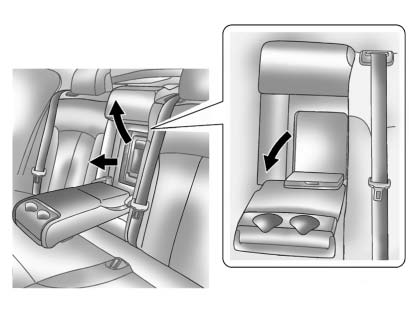 The vehicle may have a door in the rear seat that provides access to the trunk.
Lower the rear seat armrest to access the pass-through door. Pull the release handle to open the door.
To close, push and latch the door.
The vehicle may have a lock knob on the pass-through door. Turn the lock knob from the trunk side of the door to lock or unlock the door.
See also:
Fuel E85 (85% Ethanol)
Vehicles that have a FlexFuel badge and a yellow fuel cap can use either unleaded gasoline or ethanol fuel containing up to 85% ethanol (E85). See Fuel E85 (85% Ethanol) . For all other vehicles, use ...
Passing
More passing distance is needed when towing a trailer. Because the rig is longer, it is necessary to go much farther beyond the passed vehicle before returning to the lane. ...
Capacities and Specifications
The following approximate capacities are given in English and metric conversions. See Recommended Fluids and Lubricants for more information. Engine Specifications ...