Rear Seats
Folding the Seatback
Either side of the seatback can be folded down for more cargo space.
Fold a seatback only when the vehicle is not moving.
Notice: Folding a rear seat with the safety belts still fastened may cause damage to the seat or the safety belts. Always unbuckle the safety belts and return them to their normal stowed position before folding a rear seat.
To fold the seatback down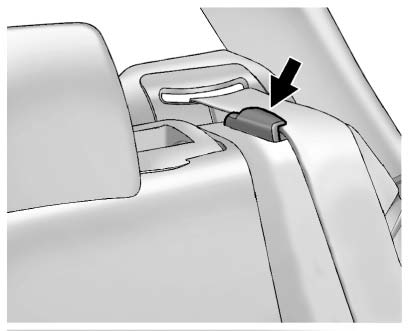 1. Be sure the safety belt is in the retainer clip.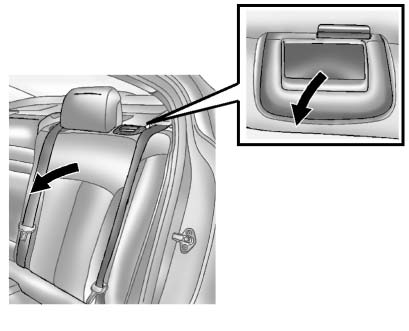 2. Pull on the lever on the top of the seatback to unlock it.
A tab near the seatback lever raises when the seatback is unlocked.
3. Fold the seatback down.
Repeat Steps 1 through 3 for the other seatback, if desired.
Raising the Seatback
WARNING
If either seatback is not locked, it could move forward in a sudden stop or crash. That could cause injury to the person sitting there.
Always push and pull on the seatbacks to be sure they are locked.
WARNING
A safety belt that is improperly routed, not properly attached, or twisted will not provide the protection needed in a crash. The person wearing the belt could be seriously injured. After raising the rear seatback, always check to be sure that the safety belts are properly routed and attached, and are not twisted.
To raise a seatback:
1. Lift the seatback up and push it rearward to lock it in place.
Make sure the safety belt is in the retainer clip and is not twisted or caught in the seatback.
A tab near the seatback lever retracts when the seatback is locked in place.
2. Push and pull the top of the seatback to be sure it is locked into position.
3. Repeat Steps 1 and 2 for the other seatback, if necessary.
When the seat is not in use, it should be kept in the upright, locked position.
See also:
Fluids
Proper fluid levels and approved fluids protect the vehicle's systems and components. See Recommended Fluids and Lubricants for GM approved fluids. • Engine oil and windshield washer ...
Off-Road Recovery
The vehicle's right wheels can drop off the edge of a road onto the shoulder while driving. If the level of the shoulder is only slightly below the pavement, recovery should be fairly easy. E ...
Setting Cruise Control
1. Move the cruise control switch to on. 2. Get up to the speed you want. 3. Press the set button at the end of the lever and release it. 4. Take your foot off the accelerator pedal. The accele ...