Dolly Towing from the Front (Front-Wheel Drive)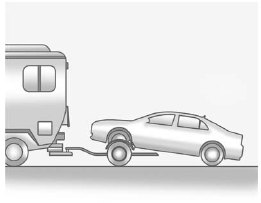 Dolly Towing from the Front (Front-Wheel Drive)
Vehicles with front-wheel drive can be dolly towed from the front.
Use the following procedure to dolly tow the vehicle from the front:
1. Attach the dolly to the tow vehicle following the dolly manufacturer's instructions.
2. Drive the front wheels onto the dolly.
3. Shift the transmission to P (Park).
4. Firmly set the parking brake.
5. Use an adequate clamping device designed for towing to ensure that the front wheels are locked into the straight-ahead position.
6. Secure the vehicle to the dolly following the manufacturer's instructions.
7. Release the parking brake only after the vehicle being towed is firmly attached to the towing vehicle.
8. Turn the ignition to LOCK/OFF.
See also:
Interior
The Rendezvous seats five occupants in standard form, but its reconfigurable interior may be equipped with third-row seats that hold two additional people. The second row can have a three-place sp ...
Highway Hypnosis
Always be alert and pay attention to your surroundings while driving. If you become tired or sleepy, find a safe place to park the vehicle and rest. Other driving tips include: Keep the vehicle ...
Service Parts Identification Label
This label, located either in the glove box or the trunk area, has the following information: Vehicle Identification Number (VIN). Model designation. Paint information. Production options ...