Dolly Towing from the Front (Front-Wheel Drive)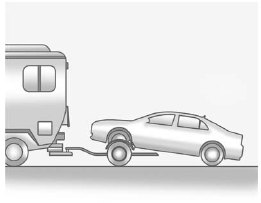 Dolly Towing from the Front (Front-Wheel Drive)
Vehicles with front-wheel drive can be dolly towed from the front.
Use the following procedure to dolly tow the vehicle from the front:
1. Attach the dolly to the tow vehicle following the dolly manufacturer's instructions.
2. Drive the front wheels onto the dolly.
3. Shift the transmission to P (Park).
4. Firmly set the parking brake.
5. Use an adequate clamping device designed for towing to ensure that the front wheels are locked into the straight-ahead position.
6. Secure the vehicle to the dolly following the manufacturer's instructions.
7. Release the parking brake only after the vehicle being towed is firmly attached to the towing vehicle.
8. Turn the ignition to LOCK/OFF.
See also:
Dual Tone Multi-Frequency (DTMF) Tones
The in-vehicle Bluetooth system can send numbers during a call. This is used when calling a menu-driven phone system. For Radio with CD: 1. Turn or press the TUNE/MENU knob and select Enter Number ...
Conversions and Add-Ons
Add-On Electrical Equipment Notice: Do not add anything electrical to the vehicle unless you check with your dealer first. Some electrical equipment can damage the vehicle and the damage would not b ...
Before You Drive
The RSE system is for rear seat passengers only. The driver cannot safely view the video screen while driving and should not try to do so. ...