Storing a Flat or Spare Tire and Tools With a Slide In Fastener
1. If the flat tire is larger than the spare tire, use the longer mounting bolt.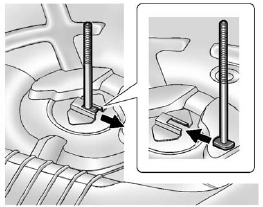 2. Slide the shorter bolt to remove it from the floor and insert the longer one.
3. Replace the jack and tools in their original storage location.
4. Place the tire, lying flat, facing up in the spare tire well.
5. Turn the retainer nut clockwise to secure the tire.
6. Place the floor cover on the wheel.
The compact spare is for temporary use only. Replace the compact spare tire with a full-size tire as soon as you can.
See also:
Automatic Transmission Operation
The vehicle may have a shift lever located either on the steering column or on the console between the seats. P (Park): This position locks the front wheels. It is the best position to use when ...
Washer Fluid
What to Use When windshield washer fluid is needed, be sure to read the manufacturer's instructions before use. If operating the vehicle in an area where the temperature may fall below free ...
Using the Call Command
1. Press and hold for two seconds. The system responds with "Ready" followed by a tone. 2. Say "Call". The system responds with "Call using <phone name>. Please say the name ta ...