Removing the Spare Tire and Tools
The equipment you need is located in the trunk.
1. Open the trunk.
2. Remove the spare tire cover.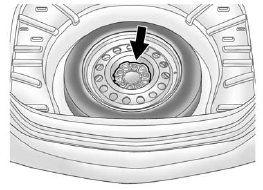 3. Turn the retainer nut counterclockwise and remove the spare tire.
4. Place the spare tire next to the tire being changed.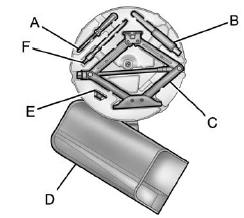 A. Screwdriver
B. Tow Hook (If Equipped)
C. Jack
D. Wrench (In Bag)
E. Trim Removal (If Equipped)
F. Fastener (If Equipped)
The jack and tools are stored below the spare tire.
Place the tools next to the tire being changed.
See also:
Traction Control System (TCS)
The vehicle has a Traction Control System (TCS) that limits wheel spin. This is especially useful in slippery road conditions. The system operates only if it senses that the front wheels are spi ...
Tire Pressure Monitor Operation
This vehicle may have a Tire Pressure Monitor System (TPMS). The TPMS is designed to warn the driver when a low tire pressure condition exists. TPMS sensors are mounted onto each tire and wheel assem ...
Fuel
Use of the recommended fuel is an important part of the proper maintenance of this vehicle. To help keep the engine clean and maintain optimum vehicle performance, we recommend the use of gasoline adv ...