Cooling System
The cooling system allows the engine to maintain the correct working temperature.
When it is safe to lift the hood:
2.4L L4 Engine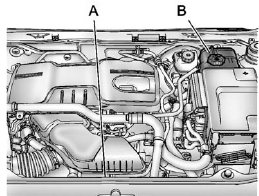 2.4L L4 Engine
A. Engine Cooling Fans (Out of View)
B. Coolant Surge Tank and Pressure Cap
3.6L V6 Engine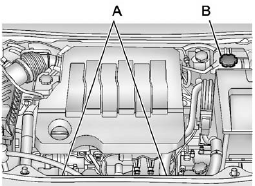 3.6L V6 Engine
A. Engine Cooling Fans (Out of View)
B. Coolant Surge Tank and Pressure Cap
WARNING!
An electric engine cooling fan under the hood can start up even when the engine is not running and can cause injury. Keep hands, clothing, and tools away from any underhood electric fan.
WARNING!
Heater and radiator hoses, and other engine parts, can be very hot. Do not touch them. If you do, you can be burned.
Do not run the engine if there is a leak. If you run the engine, it could lose all coolant. That could cause an engine fire, and you could be burned. Get any leak fixed before you drive the vehicle.
Notice:
Using coolant other than DEX-COOL® can cause premature engine, heater core, or radiator corrosion. In addition, the engine coolant could require changing sooner. Any repairs would not be covered by the vehicle warranty.
Always use DEX-COOL (silicate-free) coolant in the vehicle.
See also:
Speedometer and Odometer
The speedometer lets you see your speed in both miles per hour (mph) and kilometers per hour (km/h). The odometer shows how far your vehicle has been driven, in either miles (used in the United ...
Playing a CD or MP3 CD (Radio with CD and Touchscreen)
Press the TUNE/MENU knob to display the CD Menu. Shuffle: Select to play the tracks randomly rather than in sequence. Select again to stop shuffle. A checkmark indicates shuffle is on. Track List: ...
Older Children
Older children who have outgrown booster seats should wear the vehicle's safety belts. The manufacturer's instructions that come with the booster seat, state the weight and height limitatio ...